Easter Battlefields Trip
This Easter Lucie Swannell, Laura Thurley, Rosemary Reeve and I took 30 year 9 students on a tour of the battle sites, cemeteries and memorials of World War I in Belgium and France. Both Lucie and myself had been on this trip with previous schools but this was the first time we had done it with Jack Hunt. Needless to say we were a tad nervous at 5am on the 26th as we met up to begin our tour.
The tour was to last a total of four days – both the Friday of leaving and the Monday of returning were to be full days, including visits and tours. On the itinerary were such places as 'The Trenches of Death', Langmark German Cemetary, Tyne Cot, Sanctuary Wood preserved trenches, Vimy Ridge and the Menin Gate. This was a fantastic opportunity for our students as it gave them a chance to immerse themselves in emotions and ideas that simply cannot be conveyed in the classroom and the damage caused to society and nations.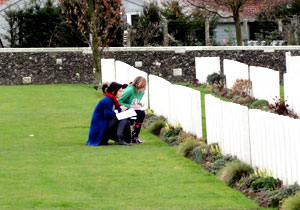 Many students had been given names of relatives by grandparents to look up at the cemeteries we visited. Others found their family name carved into stone pages along with hundreds and thousands of others. Such personal experiences could never be created in the classroom and, for those students in particular, the trip took on a very special meaning; one that they were not prepared for before they left, but one that they will never forget.
The culmination of their experiences came with the opportunity for two of our students to lay a wreath at the Last Post Ceremony at the Menin Gate on the Saturday evening. The ceremony is held every evening and is attended by people from around the world. Along with our two students there were representatives from other schools, members of male and female cadet forces, members of the Metropolitan Police and several French ex-servicemen.
To have the privilege of laying a wreath on behalf of Peterborough, as well as the school, we ran a competition where students were asked to write something for the wreath. We read all of them that evening and all left lumps in our throats. In the end it was Isabel Williams and Marshal Wang who were given the responsibility of laying the wreath.
Isabel Williams
Dear the fallen,
We are forever grateful for your heroic actions. Seeing the cemeteries in Belgium really made me realise how many people sacrificed their lives for King and Country and how proud we should be. After just ten minutes in the trenches I wanted to get out, proving to me the incredible struggle you must have been through. You gave your lives so that we could live ours and that will never be forgotten.
May you rest in peace.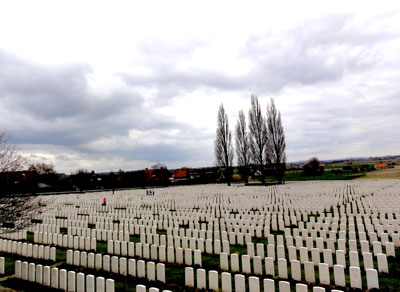 Marshal Wang
The soldiers who fought,
The soldiers who died,
The men who fought with courage and pride.
The men who ran across the land,
Nothing to be found, no head, no hand.
So I wish for every man who lost his soul,
To have his story be retold.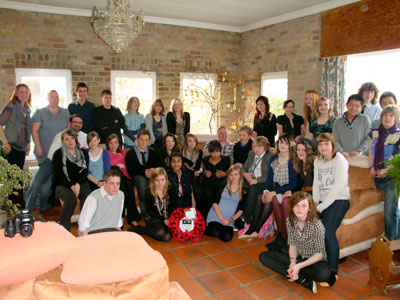 On a final note I would like to say how immensely proud we all were of the students we took on this trip. Our worries and concerns were unfounded as every student took the responsibility that was placed upon them and shone as the truly fantastic individuals that they are. Myself, Lucie, Laura and Rosemary are eagerly looking forward to running the trip again next year and would like to say a big thank you to all of the students who attended who have made us want to run the trip again next year.
Ian Davison