Y7 Visit The Royal Albert Hall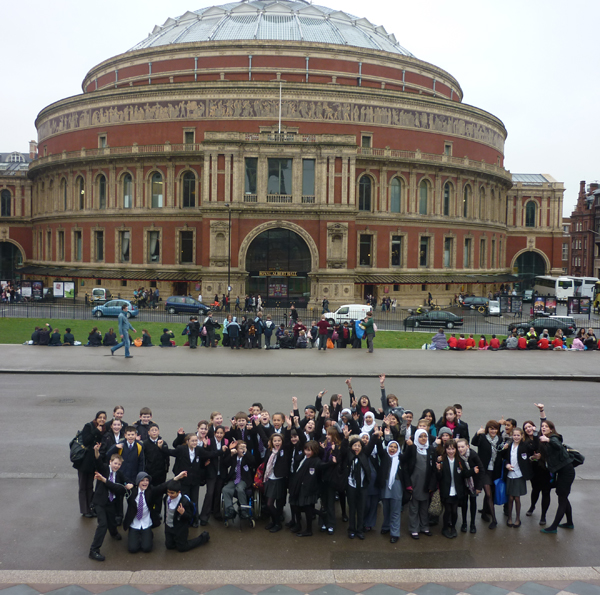 On Friday 19 March 2010, year 7 students went on a "Classical Spectacular" trip to the Royal Albert Hall. Not put off by the rain, we arrived in London in time to eat lunch under shelter and visit the statue of Albert in Hyde Park for some photographs and fresh air. The phrases 'wow!' and 'its massive!' were heard amongst many students in their excitement of being in London at the Royal Albert Hall for such an event.
The concert itself was an exciting opportunity for students to broaden their knowledge of music, experiencing an inspiring programme of some of the most famous pieces of classical music written. The Royal Philharmonic Orchestra and The Band of the Welsh Guards took their place on stage to perform with The Russian Militia and soloists for various numbers in the concert. Alongside this, lights and lasers moved around the room in time with the music for a spectacular presentation of the music.
The programme was extremely varied, including music often performed at the last night of the proms; Radetzky March and Pomp and Circumstance No. 1, allowing students to stand and wave their arms whilst Union Jack flags were projected around the room. Operatic movements and a solo violin performance provided contrast with the extremely grand opening pieces of the concert. The final piece on their programme was a dramatic performance of Tchaikovsky's 1812 overture as cannons, guns and indoor fireworks were fired across the hall to represent the end of the battle. Their final encore piece was received with a full standing audience as the John Rigby, the conductor, danced along to the music from Orpheus in the underworld by Offenbach, more famously known as the "Can-can". A stunning performance!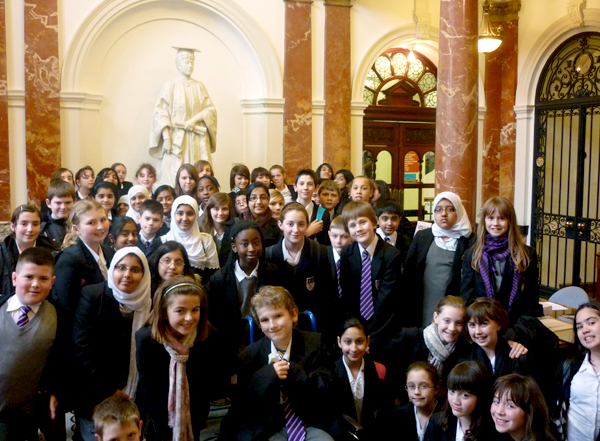 To end what had already been an enjoyable day, we were fortunate enough to be able to take all Jack Hunt students to have a photograph at one of the most prestigious colleges of music in the world, The Royal College of Music. Informing students of it producing some of the worlds most elite musicians; Sir Andrew Lloyd Weber, John Williams and Benjamin Britten to name some, we were able to tell stories of Mr Walmsley's years studying at the college. This was both an extremely proud and inspiring moment for students and staff supporting the trip. Overall, an extremely successful day for our young musicians of Jack Hunt School.