Launch of ''Pledge Against Prejudice''
On Thursday, 27th May, Sam Tuck and Ayisha Mahmood launched Jack Hunt's 'Pledge Against Prejudice'. The evening came about as a result of the work the two students had done with the Aegis Trust and the Lessons from Auschwitz Project. The evening was well attended – members of the audience included the Mayor & Mayoress, the Deputy Mayor, representatives of the local communities, Jack Hunt staff members, parents and students.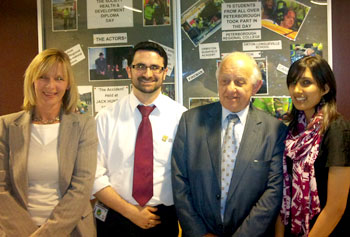 Sam and Ayisha hosted the evening, delivering a very personal, emotional and reflective look at what they had experienced in Auschwitz and the lessons they had learned as a result. The evening was also a launch for three key fund raising events that will be happening over the next year at Jack Hunt – the aim of which will be to raise money for Aegis for the work they are doing in Rwanda and Darfur but also to bring the communities of Jack Hunt and Peterborough together.
The highlight of the evening was the key note speaker: Zigi Shipper is a Holocaust Survivor who came to the school to give his testimony to help pass on the lessons that Sam and Ayisha had learned. It was a massive honour to hear his testimony and all who attended were deeply moved and inspired by Zigi – a true example to us all but also a very realistic man who understands the challenges that we face.
Over the next year the following events will be happening – 'All Hands on Deck' will begin our journey and we will be asking members of Jack Hunt and the community to give us their hand print as a mark of their dedication to our pledge. For the second event in December, we will be hosting a concert that will look to combine the musical and dancing talents of people from a wide range of backgrounds. Finally, next summer we will be holding a football tournament that will be based on the Unity rules and ethos. Throughout the year we will also be selling our Pledge Against Prejudice pin and Aegis 'Never Again' wristbands. We are also hoping that Zigi Shipper will return to Jack Hunt to give his testimony to the students of our school.
There are challenges ahead of us that, if faced as a community, we can begin to overcome and to which we can make a real difference.