Work Experience Celebration Evening
Year 10 students at Jack Hunt School recently completed their two weeks work experience, enabling them to gain knowledge and experience through Work Related Learning in the world of work. 258 students aged 14-15 went out to 249 employers who represented 53 occupational areas including Sales, Hairdressing, Sports & Leisure, Farming, Mechanics and the Armed Forces. We received huge amounts of praise and positive comments from employers who had been supporting our students. Many students had a memorable experience; some even preferred it to school!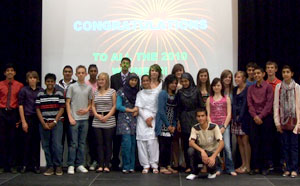 On Wednesday 16 June 2010 a Celebration Evening was held at the School for parents, employers and Governors to recognise the top 35 students who had been nominated to receive awards and these were presented by Deputy Head Teacher, Pamela Kilbey.
The 35 highly commended students showed a positive attitude from the start and exceeded all our expectations. Whilst on placement they displayed excellent communication skills, team work and enthusiasm. Some of the comments from the employers included "Exceeded expectations of a work experience student – a joy to have"; "would be an asset to any workplace or team"; "helpful, proactive, polite and keen – wish we could keep him!"
Carol Hinds, Personal Development Administrator said, "The evening was an enormous success. Well done to all our Year 10 students, especially the top 35."