JH Students 'Love Music Hate Waste'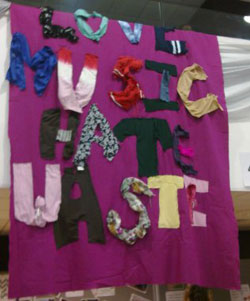 How to raise awareness amongst young people of the waste problems in Peterborough and beyond? Music. Every year in the UK enough textiles are thrown away to fill Wembley Stadium four times over; this is a particular problem in Peterborough with the Council stuggling to cope with the amounts of clothes, shoes, curtains and other textiles thrown away each week. Amanda Pantling, Sustainable Schools Coordinator and her Eco Reps at Jack Hunt School decided to do their bit to encourage people to recycle, reuse or give away their old textiles.
Their idea was to invite local bands to perform at school all in the name of preventing waste. In preparation students had hand made bags, purses and even a gigantic banner out of old unwanted clothes. Peterborough City Council and PECT were present giving information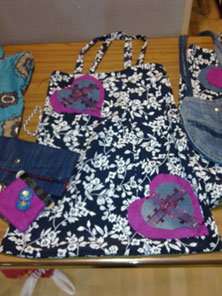 to students about recycling schemes in Peterborough and about important environmental events happening in our city, including the upcoming annual Green Festival.
The night was a big success with performances from staff member 'Hayden Gigner'; student band, 'The Castros'; Derbyshire based Ska band 'Population Lost', who had everyone dancing and finally Peterborough's own 'The Brays'. Everyone had fun and left with a much greater understanding of the effect textiles waste is having in Peterborough and how to prevent it.
Amanda Pantling, Sustainable Schools Coordinator said, "I'm really pleased with all the hard work that the students have put into this and that it has all paid off with an evening of fun and hopefully with more people determined not to waste their old clothes and shoes."