11 Million Takeover Day at Jack Hunt to mark 40th Anniversary Celebrations
Jack Hunt School celebrated a double event on Friday 6 November 2009. The school participated in the 11 MILLION TAKEOVER DAY which is a national event and a chance for children and young people to work alongside adults and get involved in decision-making. Last year saw 17,000 children and young people 'takeover' jobs at nearly 700 organisations. This year, the target was for 30,000 children and young people to have their say through the 11 MILLION TAKEOVER DAY. In 2007 Jack Hunt students were chosen to take over the Evening Telegraph!
This year saw 21 students take over senior positions such as the Headteacher, Deputy Headteachers, Assistant Headteachers, the Business Manager and the Network Manager. Other positions included Head of Houses, Curriculum Area Leaders for Science, PE, Art and Drama as well as the Office/Student Services Managers and also one student who took over from the Teacher of the Deaf.
Speaking to Year 12 student Sohail Rashid who took over from Headteacher, Roy Duncan, he said he had been sitting in on meetings most of the morning. Sohail said, "It has been an excellent experience and I would recommend it to anyone, it really gives an insight into how an organisation works". Take over Deputy Headteachers, Ryan Howden and Rebecca Lodge said they had been in classrooms checking student planners for targets, checking uniforms and had attended the staff briefing that morning. Rebecca had also attended part of a personnel meeting which made her realise the amount of responsibility placed on the Deputy Head, she said, "It was a lot more work than I thought it was going to be".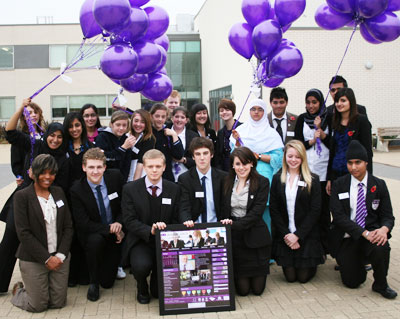 All of the students were surprised by the different types of duties members of staff performed throughout the school and thought that the experience would help them with their future careers. Year 13 student Joyce Madzima who spent the day with Teacher of the Deaf, Teresa Quail, said, "I am hoping to become a Doctor and I think learning sign language would definitely help my communication skills".
The TAKEOVER DAY was also celebrated with the launch of Jack Hunt's new website designed by Sean Johnson, from e 4 education, himself an ex Jack Hunt student. All of the "Takeover Senior Staff" and guests were invited to a Presentation as well as the school's latest celebrity, Year 13 student Tori Bradshaw, "The Face of ESP Magazine 2009". The celebrations ended with 40 balloons being released to mark the school's 40th Anniversary celebrations planned for 10 July 2010.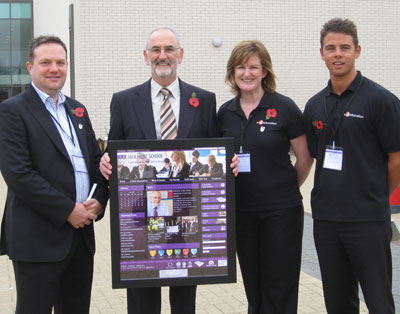 Jack Hunt is appealing to any ex-students to use the new website www.jackhunt.net to get in touch so they can join the school's 40th Anniversary Celebrations.
Deputy Headteacher, Pamela Kilbey, who organised Jack Hunt's Takeover Day said, "We have many leadership opportunities for students at the school, but this was the first time students have taken over senior positions. The day was a great success and the students involved gained a valuable insight into how schools operate and were given the opportunity to put forward ideas for positive change".