Competition Success for Dance & Theatre Academy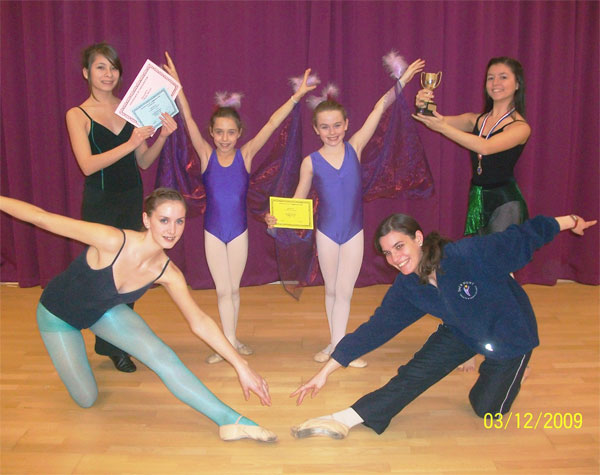 The winners of the Jack Hunt Theatre and Dance Academy's Choreographic Competition took part in the Cecchetti Choreographic Competition recently. The students performed at Cecil Sharp House in London, home to the English Folk Dance and Song Society. The dancers had choreographed their own dances, chosen their own music and worked to their own themes. Many schools from across the country participated in this very exciting event and even though it was the first time they had entered, Jack Hunt Theatre & Dance Academy walked away with no less than five awards!
Emily Yong won the Gold medal for her solo entry "Wind Dancer" and the overall Cup for Best Performance of a Solo. One of the adjudicators commented that she used all the stage and a large range of elevation and never once made the water in their glasses shake! Sophie Stokes was commended for her contemporary group piece "Flight". Lucy Yong was commended on musicality of her duet "City Rhythms" and Harriet Coles and Abigail Morris were both commended on their duet of "Dancing Birds".
A Presentation Evening of Music and Dance was held on 14 December 2009 to celebrate the achievements of 110 students who sat Ballet exams (Cecchetti Method) in July. Not only did they achieve 100% pass rate, but 27 received a Grade B (pass with Merit) and 83 received a Grade A (pass with Distinction). All the students receive their certificates on stage and demonstrated their exam pieces to their proud parents.
Three special awards were presented during the evening; Junior Improvisation Award which went to Lauren Purnell, Senior Improvisation Award which went to Tabitha McNulty-Skead and the Presentation Cup, which is presented to a student who has excelled in chorus and performance and was awarded to Emily Yong.
Dance Teacher Jenny Hawcroft said, "I am delighted with the results and very proud of the girls' outstanding achievements".
For more information about The Jack Hunt Theatre and Dance Academy please contact Linda Browning at Jack Hunt School, telephone 01733 263526 or email lbrowning@jackhunt.peterborough.sch.uk