Spectacular Science Day - April 2009
The Science Department recently hosted a spectacular morning for Year 9 students.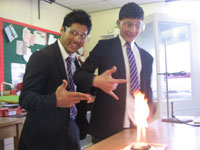 All Year 9 students were invited to take part in a 3 hour extravaganza of bangs, whooshes and whizzes. Pupils watched demonstrations and were able to carry out individual practical experiments.
All of the practicals and demonst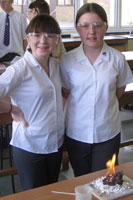 rations were centred around firework night which resulted in burning, exploding and some exciting visual reactions.
The 14 experiments included burning a £5 note, fire writing, invisible writing, making glow sticks and screaming Jelly babies. We also exploded bubbles of methane, cannon fire, silicon and ice. The soda snakes, chemical rainbows and bubble bath towers were quieter but just as visually attractive.
The feedback results show that students had a renewed sense of excitement and interest in science and indicated a very positive working relationship with the staff.
By Rebecca England