Year 11 Revision Week - April 2009
For the second year running, as part of our determination to support Year 11 students as they prepare for GCSE examinations, we ran an extraordinary revision week from 27 April – 1 May this year. The timetable was abandoned for the week and students were given interactive and exciting revision sessions in a range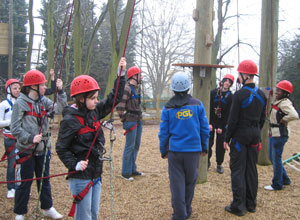 of subject areas, developing their thinking skills as they prepared for their exams. In addition, most students spent a day at a PGL activity centre near Grantham undertaking further revision activities whilst doing outward bound and team building.
A group of students spent two days at Anglia Ruskin University experiencing university life and receiving high level workshops and lectures from university staff to help with their GCSE Maths and English.
Several outside speakers came into school during the week. Monday saw Jamie Edwards a Psychologist who runs Trained Brain.com in school talking to 4 groups of students and staff about maximising their potential. Positively Mad joined us on Thursday to give advice to both students and parents about revision tips and techniques. Frida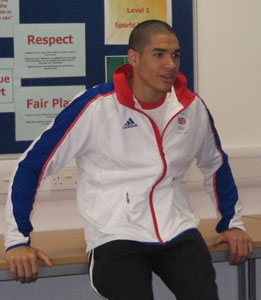 y we were joined by the Olympic medallist, gymnast Lewis Smith who talked to a small group of students about the hard work and motivations needed to succeed.
Students collected raffle tickets throughout the week as a reward for their attentiveness and hard work. Staff were able to award over 4,500 tickets all of which went into a prize draw.
The week ended with a celebration event during which professional singer Sam Smith who has sung with Jamiroquai and played the role of Rafiki in The Lion King spoke to Year 11 about self-belief and determination. The grand finale included a song performed by the Jack Hunt School Staff Choir and the debut of a film of the week.
24 prizes ranging from £5 Boots vouchers to IPods were awarded as raffle tickets were drawn at random. The top prize of a Dell netbook was won by Amir Uddin 11CKCS. Congratulations to him.
We hope this week has given our Year 11 students a springboard to success in their forthcoming exams.
Some quotes from Year 11 students:
I would have loved to do it all again. It was a massive help towards preparing for my exams- wicked! Ben Beech 11CJL
The week really helped in motivating me to work harder and made me understand that revision doesn't have to be boring. Rebecca Innes 11MCO
The assembly was priceless - funny, emotional and entertaining. Max Krupa 11BFD
I thought PGL was great even though I couldn't take part in the activities and the raffle was a really good motivator. Joshua Farrow 11MGE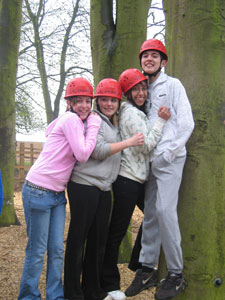 I got loads out of it – it made learning fun. Harley Fennel 11CHS
The trip to ARU was fun. It gave us a real insite into what university life might be like. Shanice Moore 11KTR
Something that Jamie Edwards said has stayed with me – "Small change, big difference". Joe Wareing 11KMC
The time at ARU gave me time to think about what I'm going to do in the last few weeks so I am absolutely prepared in the best possible way to achieve the best grades that I can. Thomas Chung 11
I thought the week was great and I really believe it will help me get the grades I need to get into the 6th form. Amir Uddin 11CKCS