Olympic Athlete Supports Sports Leaders - May 2009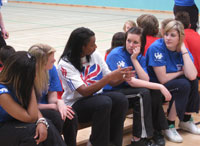 Former Olympic Triple Jumper, Michelle Robinson, opened the first Jack Hunt School Top Link conference which was attended by 21 schools from Cambridgeshire and Peterborough.
The conference was aimed at training Year 10 Sports Leaders to run Top Link sports festivals back in their own schools. Students had a full days training lead by Year 12 and Year 13 sport leaders from Jack Hunt School. The training included the role of a leader, delivering and organising practical activities and the role associated with planning a large sports festival. It is hoped the Top Link festivals will all take part in National Sport Week which runs from 29th June to 3rd July 2009.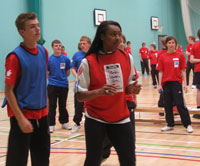 Michelle started off her athletics career as a Long Jumper. In 1992 she was introduced to the Triple Jump and was soon leaps ahead of her competitors, breaking numerous British records along the way. Michelle was the first woman in the Commonwealth to jump over 14 metres. She then went on to make three World Championship Finals and European Finals and narrowly missed out on a medal at the Commonwealth Games in 1998. She represented Great Britain at the 1996 Olympic Games in Atlanta.
Michelle Robinson supported students throughout the day by joining in all the activities, giving help and advice and talking to all the outstanding leaders who attended. The day was fantastic with all 84 attending students having clear ideas and roles for the organisation of their sports festivals.
Comments from the day:
Castle School, Cambridgeshire - Really good. We loved it. The school leaders were great.
Hampton College, Peterborough - Good to realise parts that make up a festival
Neale–Wade School, Cambridgeshire - Helped a lot, gave advice that I'll use.
Sawston Village College, Cambridgeshire - Really good. It got us to consider different activities to suit different people.
St Bedes, Cambridgeshire - Good, well run, good organization, fun. Good learning experience, generally all-round fantastic.