Footprints and Fingerprints - June 2009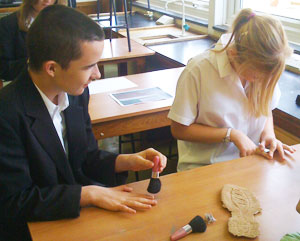 Year 10 pupils have been involved in some forensic investigations this term. Pupils have been putting together crime scene investigation manuals and from this have been able to take the necessary steps to gather physical evidence of a crime scene.
We have been looking at footprints and fingerprints during recent lessons. The footprints were made and then photographed, measured and compared against others. We then took moulds made of Plaster of Paris to enable us to keep th
e 'evidence' for longer. Fingerprints were taken using different methods and again kept as evidence in Portfolios.
Future investigations will include the analysis of hair, fibres, glass and soil chromatography.
This Scientific Investigation Work is all part of the new OCR National Certificate in Science which was introduced into Jack Hunt School in September 2008. This course is in addition to the more traditional GCSE qualifications and is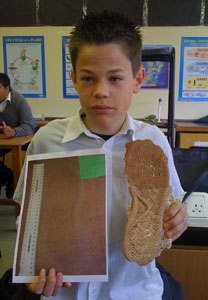 aimed at those students who will achieve better qualifications by completing coursework over a two year period. Students work on a variety of modules one of which is the Forensic Module above.
Students have learned how to work independently and develop their work to the highest standard of each individual's ability. Students are able to engage much more frequently in one-to-one work with their teacher – with clear individual guidance given on each piece of coursework enabling pupils to achieve their full potential. Both pupils and staff are pleased at how pupils have adapted to working independently and at their own pace.
Louise Dawson