Olympic Inspiration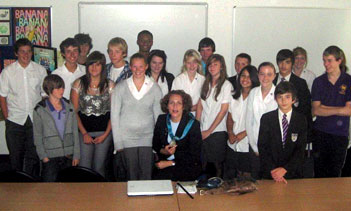 Olympic Silver Medallist Miriam Batten led a workshop to help support and inspire Gifted and Talented athletes at Jack Hunt School on Wednesday 1 September 2010. Miriam answered questions from students on many topics including training, the best way to prepare for competition, gaining the best parental support and ultimately how to win an Olympic medal.
Miriam herself has vast experience in elite sport competing at the highest level in rowing for 11 years achieving her ultimate goal of an Olympic medal at the Sydney Games in 2000. Miriam raced with her sister Guin in the quad sculls becoming the first women's crew to medal at an Olympics.
Miriam answered questions from students involved in many different sports including Meghan Lawless, Sam Tuck, Georgia Swain , Matt Hart, James Marshall, Tom Chung, Matt Newton (Rowing), Ashley Watson and Michael Frankland (Athletics), Jessica Sharman (Badminton), Lewis Tuck (Tennis), Dan Brown (Swimming), Ebony and Kia Welch (Hockey), Thalia Martin (Tennis) Ottavio and Dario Tanzillo (Swimming).
Chris Game, Assistant Headteacher said, "Miriam's visit is part of our ongoing Sports College commitment to try to provide ever increasing support for our talented young sporting stars."
"Who knows, one of these young people may be an Olympic Gold medallist of the future and it is important we help these students recognise their dreams!"
We look forward to Miriam returning in the future to provide further targeted advice and support for our students.