'Big Finish' Raises Money for Sue Ryder Care
"The Big Finish" was an opportunity for Jack Hunt Students to enjoy the last day of the Summer term and encourage the School's young entrepreneurs to raise money for charity.
All 84 Tutor Groups were given the challenge of raising money for charity using a £5.00 loan given to them four weeks previously. This enabled the students to plan events and activities which were then held at a huge Annual Fete for all students and staff, which made up part of the "Big Finish".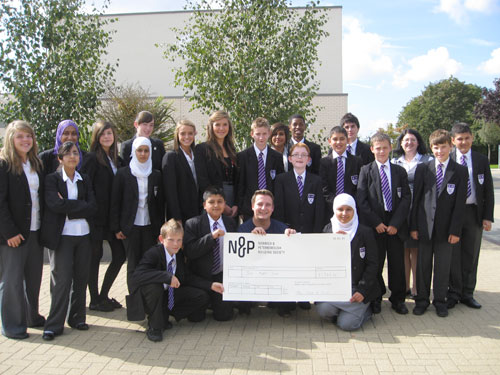 Activities included football shooting, selling sweets, guessing the amount of balloons in a car, face painting, a treasure hunt and, not surprisingly, one of the most popular events, throwing wet sponges at teachers!
After repaying their loans, the hard work and generosity of the students raised £1,342.66 for the School's chosen charity Sue Ryder Care.
The winning Tutor Group CLA, who made a whopping £96.40 profit by selling mocktails and creating henna designs were asked to present the £1,342.66 cheque to Michael Clarke from Sue Ryder Care. Personal Tutor, Mrs Karen Leeman, said, "The Tutor Group worked well together thinking up ideas of what to sell, designing posters as well as setting up and running the stall on the day. They often refer to themselves as a family and I was delighted to see what they can achieve when they all work together. Every single one of them contributed to our stall's success and they should feel very proud of themselves. Overall our Tutor Group raised £96.40 and we were thrilled to be asked to present the cheque on behalf of the school to Sue Ryder Care."