Ian Rose Presented Awards at JHS Presentation Evening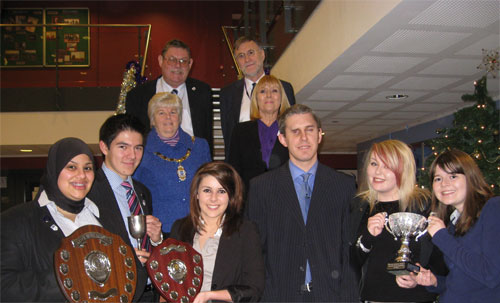 Paralympic Silver Medallist and former World and European Judo Champion, Ian Rose, presented awards and certificates to students at the annual Presentation Evening at Jack Hunt School on Thursday 16 December 2010.
Ian's world class success follows childhood cancer which left him without sight in his left eye and severely short sighted in his right. Typically, he regarded it as a challenge. His positive nature and zest for life helped him reach for sporting stardom.
At the age of seven Ian started Judo to build his confidence and keep fit. One year later he won his first medal and at the age of 17 he was selected to fight in his first Visually Impaired International. He has now been a regular member of Great Britain's national team for over 16 years and has achieved outstanding results.
During the Presentation Evening prizes and trophies were awarded to students, both past and present, for their hard work, commitment and contribution to subjects they have studied and areas of school life. Certificates for GCE A Levels, GCSEs and Vocational Qualifications were also presented to students who left the school last year.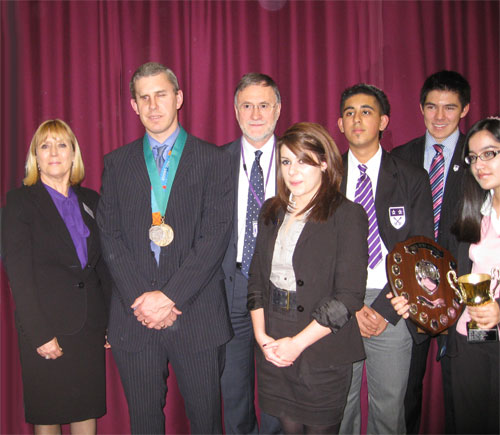 Pamela Kilbey, Headteacher, said "We are very proud of the outstanding achievements of our students and I am immensely grateful to all the staff of Jack Hunt School who work so hard to make these achievements possible. We are delighted to welcome Ian Rose to the school and his speech was inspirational."
Key prize winners include Mia Heming who was awarded The Roy Duncan Award for achieving the best A Level Results with five passes at Grade A. This award has been re-named this year to recognise the service of the former Headteacher. Farzin Mavani achieved 11 passes at A* and 2 at A and received the Barsby Trophy, Robert Scotney (the student who has made the most progress), Christopher Jackson (who has shown outstanding personal achievement), Toby Abbs (the student who has made the most significant contribution to the leadership of other students), Rachel Tucker (for a high level of achievement in Music), Liam Garman (for outstanding personal achievement in Business Studies), Kurvin Guiste (who has excelled in scientific investigation for further research in Physics) and Maxine Taylor (for outstanding academic achievement in Sport Studies) also received special awards.