Boxing Club January Offers

Boxing and Boxfit is an excellent way of building confidence and self-esteem whilst improving overall fitness. Although a high sense of individual achievement can be obtained, a team work spirit is encouraged through all of our sessions.
You can attend this club locally at either Jack Hunt School, Middleton Primary School or Highlees Primary School.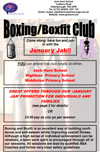 You can now take advantage of our 'January Jab' promotion, saving money on individual or family fees.
Click the thumbnail on the left for full details of sessions and prices as well as registration information.
Click here to go to the Boxing/Boxfit Club page of the website