MP Steward Jackson Visits JH for Q&A
Jack Hunt School held a question and answer session with MP Stewart Jackson this week which was chaired by Head boy Thomas Chung. It was organised to allow students who have studied Politics with Mr Fowler and Mr Blant to develop their insight into the workings of Parliament. An insight one Year 11 Jack Hunt pupil, Toby Abbs, has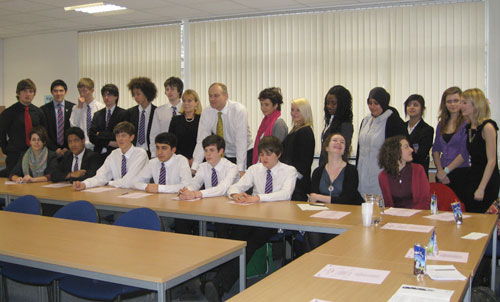 already experienced through his work experience for Stewart Jackson in the House of Commons a few months ago.
Enthusiastic to gain insight into the views of their constituent MP they posed challenging question after question to Stewart Jackson MP. There was a good humour to the proceedings, rare for a political debate, with the students trying to get Stewart to explain the university fee hike, recent abolition of the EMA payment to students pursuing 16-19 courses and local issues such as the plans for a new Peterborough train station.
Alex King in Year 11 started proceedings by asking why many MPs are failing to motivate young people into Politics with Facebook campaigns or other social networking sites. Stewart recognised the need for new technology to invigorate a new generation of voters, but also argued that it was important to protect the traditions of our country. Stewart did agree that it was important for politicians to inject fun and relevance into their proceedings and was always looking for new ways to help him engage with his constituents.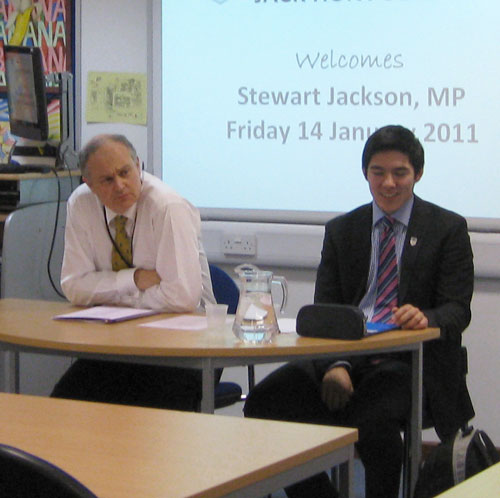 Louis Heming, another Year 11 student, asked what his views were about the coalition lasting beyond this Parliament. Stewart Jackson was very honest when he said he was dubious at first because despite having 6-7% of the seats they have 1/3 of ministerial responsibilities. He did admit, however that he has warmed to the "loveless marriage" as it is "delivering a better quality of life for the country." Helen King in Year 13 brought an important issue to the school regarding the status of languages post-16. As a language school Jack Hunt tries to spread an ethos of other languages and cultures, but Stewart suggested that the status of the English Language meant that we had a duty to ensure English was taught correctly first and to encourage the development of knowledge and technology as a resource we could export to other countries. Georgia Murphy and Jessica Kenny in Year 12 allowed Stewart to raise the important work he had done securing funding for the redevelopment of Peterborough train station. Jess was quite keen to make the point that Education was more important for developing the region than a new train station. Rizwana Akhtar, the deputy head girl, gave Stewart the hardest time trying to get him to admit that it was untenable to support a referendum on Europe whilst he had supported the increase in EU funding. Stewart Jackson suggested that the use of the whip had been used on that occasion as he feels very strongly about how the EU has limited UK sovereignty. Jessica Kenny also raised another popular subject when she asked what the coalition was going to do to make the bankers pay back tax payers money and how they were permitted to keep excessive bankers' bonuses in the current economic climate. Many other topics were discussed in the course of the meeting with Mr Jackson. Of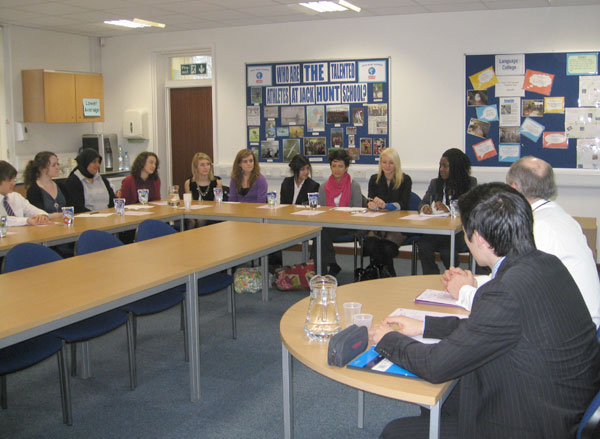 these he was in the most combative mood , in response to Harry Gartside's question about transparency and MP expenses. He was adamant that the expenses scandal only exposed a small proportion of those who abused the system, and he was concerned that the current trend could lead to a "parliament of the rich" as only those with family money behind them could succeed . To close the debate Mr Jackson stressed the importance of the "quality" in education and promised to maintain his commitment to his constituent responsibilities. As always opinions were divided about whether the students would vote for him in any forthcoming election, but all the students agreed that he had, on this occasion at least, acted unlike a politician by answering all the questions he was posed with an honest reply.