JHS Musical Theatre Group Sell Out "Grease"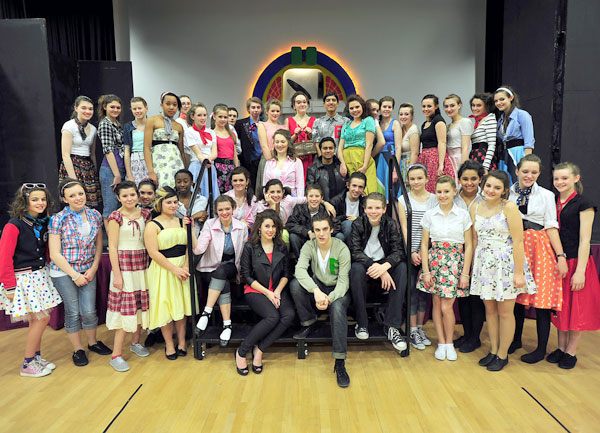 Can you believe it? - It was almost exactly 40 years ago, on February 5th 1971, that Jim Jacobs and Warren Casey first tried out their new musical production with songs styled on the musical vogues of the early rock and roll era and a title chosen to evoke the slicked-back hair styles of the 1950s: Grease.
Again, almost exactly 12 years ago this week, the Musical Theatre Group at Jack Hunt School performed the musical for the first time. Now, over four nights last week, our lively and highly talented cast performed this perennial favourite to full houses, making it Jack Hunt's 14th consecutive annual musical production.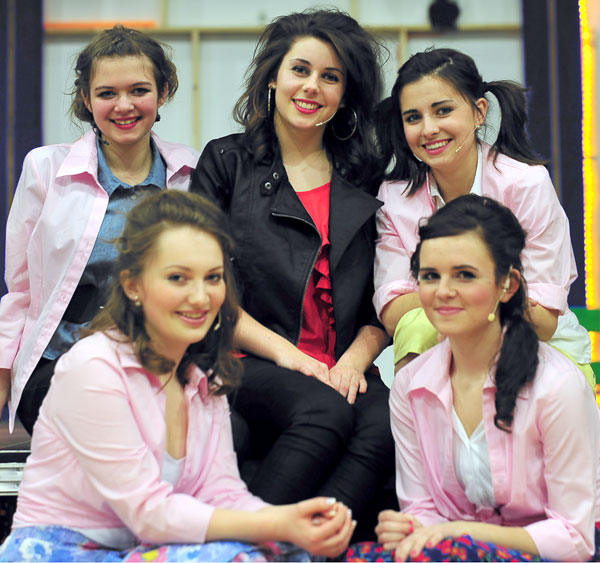 Auditions last September uncovered a wealth of talent in singing, acting and dancing. It's always our policy to include everyone who is brave enough to audition – provided they're prepared to put in the time and the energy demanded of them over the five months of rehearsals at evenings and weekends. The result was an energetic and fun-filled performance for all involved: our gentle but feisty Sandy (Rebecca Lodge) finally took control of an appealing but errant Danny (Josh Flew); the Pink Ladies sizzled and the Burger Palace Boys rocked, while Eugene, Patty and Miss Lynch provided hilarious comic foils.
The production is of course a mammoth team enterprise. The 40 plus students from Years 8 to 13 were supported by musicians drawn from students, staff and friends. Our dance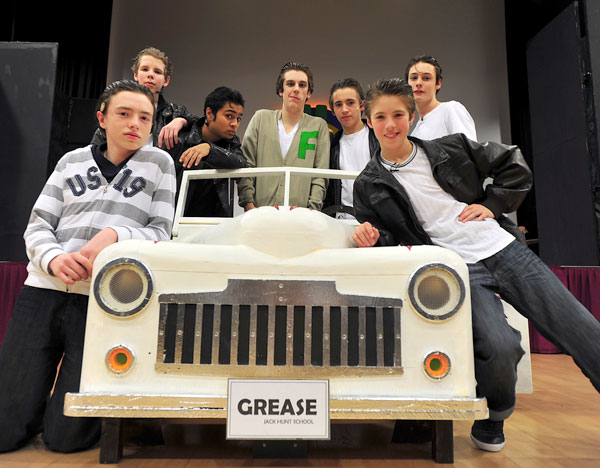 and movement coordinators worked long hours with large groups, perfecting the jive routines and other numbers in a range of dance styles. Front of house was run by Year 12 students supported by teams of staff on refreshments; stage management, sound and lighting were all organised by students, staff and a handful of ex-students; costumes, props and set were lovingly researched and custom-made by creative teams of friends, staff and students. Special mention must be made of the set designers and builders in the Design & Technology Department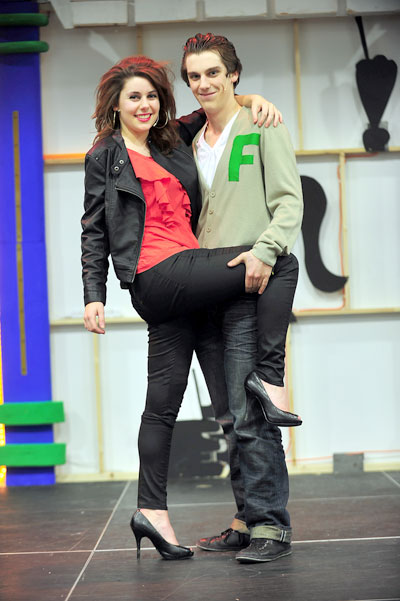 – a mini-version of Greased Lightning, was designed and lovingly built to emerge from the front of the stage whilst the atmosphere on stage itself was set by a giant juke box frame.
The site of Jack Hunt's first production of Grease, 12 years ago, now lies buried under the library. The original cast are now doctors, lawyers, musicians, actors, journalists, dancers, teachers, mothers and fathers.
Director-Producer Maggie Keber said, "One member of the original cast is still with the school – Rebekah Popple, who, as Rebekah Abbott, played a very funny, very skinny Jan. She is now a highly fluent signer and a valued member of the Learning Support Team supporting deaf students. We are pretty sure that she and all the audience enjoyed Jack Hunt's second production of Grease as much as we have all enjoyed putting it together.