Pledge Against Prejudice Presentation Evening
On Thursday 10 March 2011, Jack Hunt School hosted an intimate evening with the twin aim of celebrating the work of the Pledge Against Prejudice initiative, that was started a year ago, and looking forward to the coming year for the Pledge and for Peterborough.
The evening was attended by those people who have been involved in the Pledge over the last year and by those looking
to begin their own Pledges and take the work started at Jack Hunt into their own communities and so, in turn, across Peterborough. The evening was hosted by students of the school whose professionalism and passion go far beyond their young age.
The evening began with a reading by Year 9 student, Lewis Tuck whose poem 'Never Again' won a competition that was open to all the schools in Peterborough. The competition was to win the opportunity to help design a permanent memorial in Peterborough City Centre in commemoration of those that were murdered in the Holocaust and since, in subsequent genocides. Earlier in the year he had the honour of reading his poem at Peterborough's Holocaust Memorial Day Service on 27 January 2011.
Following Lewis, Year 13 students, Sam Tuck and Ayisha Mahmood, took the lead. Over the past year they have been instrumental in the success of the Pledge Against Prejudice. Having returned from a one day visit to Auschwitz-Birkenau as part of the Holocaust Educational Trust's Lessons from Auschwitz Project in 2010, they came back to Jack Hunt inspired and impassioned. They helped to organise a number of events designed to raise money for an anti-genocide organisation while at the same time looking to bring together the school community. From pins to concerts their efforts have been varied and innovative. The most recognisable event they organised was the creation of our Pledge Against Prejudice Banner – over 11 metres of material was filled by over 700 handprints, by members of the school community, members of the local community and members of the local primary schools. Since then the Banner has been used as inspiration by the local authority and a number of schools, including the Thomas Deacon Academy and Peterborough Regional College.
They were joined by Toby Abbs, Year 11, who, as a result of the work being done by Sam and Ayisha, was inspired to create his own blog page based on the Pledge Against Prejudice initiative. Toby has also worked closely with Zigi
Shipper – a Holocaust survivor who, with the help of the Holocaust Educational Trust, has given his testimony to over 500 students in just under a year. All three students had been asked by the Holocaust Educational Trust to speak at the House of Commons in January to mark Holocaust Memorial Day. They spoke in front of MPs, Lords, Holocaust survivors and the children of Holocaust survivors about the inspiring work being done at Jack Hunt – their work now being used to motivate students nationally.
After Sam and Ayisha, Georgia Evans and Lucy Johnstone (Year 12) took over proceedings. Georgia and Lucy completed their Lessons from Auschwitz Project ("LFA") this year. The LFA project is a four part project and is run by the Holocaust Educational Trust, It is open to every school nationally and offers students the opportunity to complete a one day visit to Auschwitz-Birkenau within a supported structure, aimed at inspiring younger people to take the lessons of where hatred and prejudice can ultimately lead back to their local communities. This was the first time that Georgia and Lucy had shared their ideas and experiences of their visit. They spoke with a deep passion and meaning that conveyed a vivid and emotional experience that has clearly made a life-long impact on both of them. Their desire to make a difference within Jack Hunt and beyond was clear.
Following Georgia and Lucy we were lucky enough to be joined by a representative from the Holocaust Educational Trust. Ros Sandhu, Student Outreach Officer at the Trust has worked closely with Jack Hunt over the last year,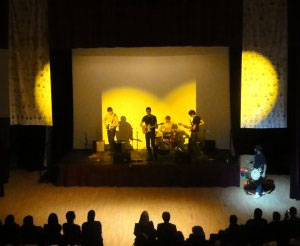 supporting the work being done there as well as giving the students the opportunity to share their work with a wider and larger audience. The evening was completed by James Gasparutti and Roger Banda (Year 10) performing their original rap piece inspired by the Pledge Against Prejudice initiative.
The Pledge Against Prejudice was an idea that had no set end and no real set course but over the last year it has gone from strength to strength. This could only have been possible with the support of a large number of people including the Mayor and Deputy Mayor of Peterborough; Assistant Headteacher, Ms Kerry Cliffe and Headteacher, Mrs Pamela Kilbey of Jack Hunt School; Jawaid Khan and Paul Butcher and, most importantly, all the students of the school. What has begun at Jack Hunt we hope will spread and inspire – Peterborough is an amazing city whose strength comes from its diversity and its unity.
History Teacher, Ian Davison said, "As a teacher you hope to inspire the students, since the Pledge Against Prejudice began I have experienced something far better – I have been inspired by them. I cannot wait to be inspired by Peterborough."