Jack Hunt Poetry Evening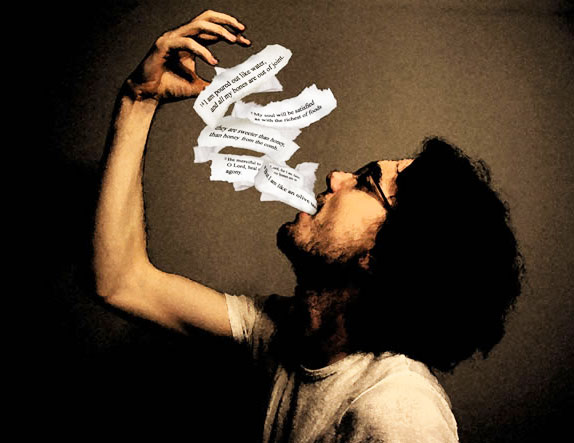 On Wednesday 11 May the Drama department hosted for the second year running a Poetry Performance Evening. The event was a great success bringing staff, students and the community together to celebrate all types of poetry.
The evening kicked off with Mixy, a past Peterborough Poet Laureate, who also ran a workshop for a group of students before the evening began. The workshop ran for two hours and the students were able to create their own poems. Joe Chung (yr 7) and Nicole Rooke (yr 8) volunteered to perform their newly created pieces during the evening. Rebecca Darling, Jessica Deakin, Keeley Channing, Farrah Afzal and Aleena Chowdry performed a self-written poem about teachers from Jack Hunt offering some very humorous moments. Poems on the night varied enormously from funny and moving to serious and random, as well as our Drama Club students adding acting and adventurous costumes to the mix.
The evening consisted of over 40 performances all introduced by Mr Ward, our host for the evening. Mrs Tuck filled us in on her life as a 'Cover Supervisor' giving a very entertaining performance of her own creation. We also had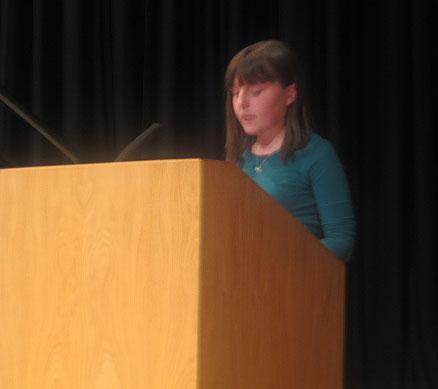 past students Scott Parker and Aaron Banda give a very emotional performance of a rap about troubles in their lives. Poems were performed in Welsh, Scottish, French, Spanish and also Urdu.
A special mention must be said to our sign language interpreters who signed every poem of the evening. A big thank you also goes to everybody who was involved in the evening making it a great success.
We received such positive feedback from the audience and the performers that we are hoping to hold the event again next year and would invite anybody who is interested to come along and join in the fun!

Pictured above: Katie Bocking (year 11) performing her own poem 'My Profound Life'