Primary Schools Olympic Festival at JHS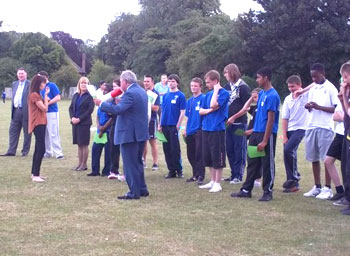 Peterborough United Football Club's, Director of Football, Barry Fry was invited to open the Year 6 Olympic Festival held at Jack Hunt School on Friday 1 July. He set the event off at a pace, motivating the pupils to do well and strive to achieve certificates for the Olympic Values of Determination and Respect. The Year 6 pupils from Jack Hunt's Partner Primary Schools participated in a range of sporting activities including target games, team based activities, striking games and multi-skills.
West Town and Sacred Heart Primary Schools were the two winning teams with Longthorpe, Highlees and Ravensthorpe Primary Schools close behind.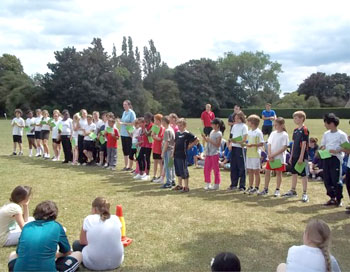 All the activities were organised and led by Year 12 and Year 10 Sports Leaders from Jack Hunt School who did a fantastic job running the event and the day proved a great opportunity for the pupils, to meet the older students before they join the school in September.
Linda Dingle, School Sport Coordinator said, "The Year 6 pupils thoroughly enjoyed the fantastic variety of different types of sporting events, which gave everyone the opportunity to try new skills and the Jack Hunt Sports Leaders were a great asset using their leadership skills to the full".