London 2012 Olympic Games
Jack Hunt School welcomed to London 2012's Get Set network
Students and teachers at Jack Hunt School celebrated recently their official welcome to London 2012's Get Set network, in recognition of their commitment to the Olympic and Paralympic Values. So far students in Year 7 and Year 9 have completed Olympic themed events as part of a whole school deep learning day. We have run Olympic quiz competitions for students and have created a working group of staff and students to support the planning of future events.
The London Organising Committee of the Olympic
Games and Paralympic Games (LOCOG) awarded Jack Hunt School a plaque and certificate to acknowledge their involvement in the London 2012 education programme. The School is now a part of an active London 2012 community of schools and colleges across the UK– the Get Set network - and will receive access to exclusive competitions and 2012 Games related opportunities over the coming years.
Chris Game, Assistant Headteacher, who presented the school with the plaque and certificate, said: 'Students at Jack Hunt are excellent examples of how London 2012 is helping to spark young people's imagination and inspiring them to get involved and make a difference. Over the coming months we hope our London 2012 programme will extend far beyond PE and sport and I hope our students motivate other young people to join their journey.'
Sebastian Coe, chairman of LOCOG, said: "When London won the right to host the Olympic Games and Paralympic Games, we made a clear promise to use the power of the 2012 Games to inspire young people.
"I am proud to welcome Jack Hunt School in to the Get Set network for their exciting work around the Olympic Values of friendship, excellence and respect and the Paralympic Values of inspiration, courage, determination and equality."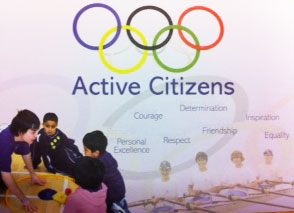 At jack hunt we believe in promoting the Olympic and Paralympic ideals with out students. To do this we have come up with an active Citizen scheme. All students are encouraged to volunteer in some capacity to help others or share their success stories and complete an active citizen postcard linking their work to one or more of the Olympic and Paralympic Ideals.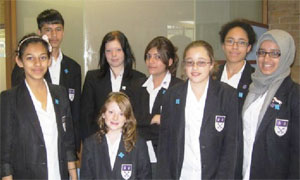 Students submit their postcard and house leaders decide on students to receive a London 2012 logo pin badge to wear around school. All completed postcards will be collated to build our own wall of 'olympic volunteering' to highlight all the excellent volunteering and success stories are students have.