Parents
The school has been awarded the Leading Parent Partnership Award. This is a nationally recognised award given to schools which, through the involvement of parents and carers, enhances children's life chances by ensuring attendance, punctuality, behaviour and progress are good or better.
As parents or carers you are the largest influence in your children's lives and development and as such we recognise, and welcome, the importance of working very closely with you. We aim to fully engage you in your child's education with the aim of improving communication to maximise achievement. The award recognises this and notes high numbers of parents attending consultation and training events and being actively involved in the work of the school. A wide range of effective home school links are in place which reflect the diverse nature of the community we serve.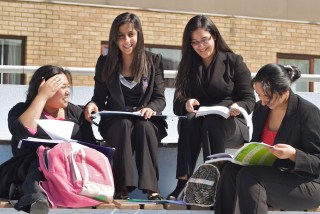 Our parent-school partnerships are based around the following objectives:
Achieving and maintaining the Leading Parent Partnership Award.
Being a welcoming and friendly place for parents.
Promoting an awareness of and participation in lifelong learning opportunities available in school and in the community to all groups of parents.
Holding and actively promoting enrichment opportunities or events for joint parent/child participation.
Providing good induction for all new parents.
Providing parents with relevant and user friendly guidance and information to help them support their child's learning.
Producing and implementing parent/carer friendly policies to establish effective home-school links and improve pupil/student attendance, punctuality, behaviour and progress and positive participation from school.
providing good support for transition for parents when their children leave the school.
Constantly evaluating our own performance against the Leading Parent Partnership Award criteria.
If you have any comments or queries regarding any school activity or relating to the education and welfare of your son or daughter, please do not hesitate to contact us.
A number of our school policies can be found on this website including Complaints and Parent Partnership policies. Other policies can be viewed on request. Information regarding other important issues is found on the menu to the left of the page.